Hardstyle news. It comes, it goes. Ben je benieuwd wat er de afgelopen week is gebeurd? En wat je misschien wel hebt gemist? Dit is de Hardstyle Report Newsflash – Week 7.
KELTEK: "Het Defqon.1 anthem is af!"
Via een bericht op Instagram laat KELTEK weten dat het Defqon.1 anthem af is. " After months of working and a lot of hours in the studio I can finally say it's finished, and can't wait to show it to you guys." Wanneer we een preview kunnen verwachten, blijft nog even geheim. Maar, it's coming soon!
Requiem is terug, mét een nieuwe live-act: The Reckoning
Het is een tijdje stil geweest rondom raw talent Requiem, maar hij is terug van weggeweest. Hij is druk in de studio bezig, heeft een nieuwe plaat 'The Reckoning' uitgebracht en komt met een gelijknamige, nieuwe live-act. Zijn eerste optreden als The Reckoning trapt hij af op de mainstage van QAPITAL . En dat is alleen nog maar het begin!
D-Block & S-te-Fan hosten op vrijdag de mainstage van Intents Festival
Op vrijdag 31 mei trapt Intents Festival 2019 af en dit jaar krijgen D-Block & S-te-Fan de eer om de mainstage te hosten. Met sets van Sub Zero Project vs. Phuture Noize, Sound Rush, Demi Kanon en Dee-Block & S-te-pack belooft dit een fantastisch begin van een mooi weekend te worden!
Dit is het eerste deel van The Qontinent line-up
Op 9, 10 en 11 augustus keert The Qontinent terug, met namen als Coone, D-Block & S-te-Fan, Radical Redemption, Phuture Noize, Pat B en Sub Zero Project. Dit is het eerste deel van de line-up! Meer informatie over de line-up volgt op 18 februari en 25 februari.
New talent incoming: Aftershock!
De I Am Hardstyle set op Hard Bass eindigde iets eerder dan aangekondigd, en plotseling werd het GelreDome gevuld met rauwe kicks. There's a new act in town: Aftershock . Wie er achter dit masker schuilgaat, blijft nog even een verrassing. To be continued…
Da Tweekaz werken aan een anthem
Afgelopen week vertelden Da Tweekaz ons in een interview over hun nieuwe tourconcept Tweekalution. Daarin lieten ze, tussen neus en lippen door, weten dat ze druk bezig zijn met een anthem. Voor welk feest dat anthem is houden ze nog even geheim. Maar het superhelden-concept van Tweekalution matcht goed met het superhelden-thema van Intents Festival, toeval? Wat denken jullie?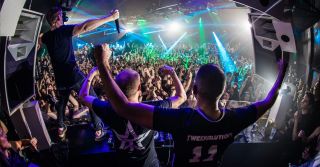 Een verrassing voor D-Block & S-te-Fan: 25.000.000 streams voor 'Antidote'
Afgelopen week werden D-Block & S-te-Fan op Radio 538 verrast door radio-dj Barend van Deelen met een hele mooie mijlpaal: 25 miljoen streams voor hun album 'Antidote'. Gefeliciteerd mannen!
Dit bericht bekijken op Instagram
PODCASTS, SETS EN LIVESTREAMS
D-Block & S-te-Fan op X-Qlusive Da Tweekaz
De beste set op X-Qlusive Da Tweekaz ? Als je het aan ons vraagt; zonder enige twijfel die van D-Block & S-te-Fan. Gelukkig hebben we de beelden nog!
Herleef Hard Bass 2019 – The Last Formation
De laatste Hard Bass gemist, niet helemaal goed opgelet of wil je het graag nog een keer beleven? De livestreams van alle teams en sets (behalve van Zany en Headhunterz) staan nu online!
Podcast: Isaac's Hardstyle Sessions #114
Een nieuwe aflevering van Isaac's maandelijkse podcast: Hardstyle Sessions. Een fijne mix tussen classics, zoals 'Coone – Monstah' en nieuwe platen, zoals ' Scooter – Move Your Ass (Noisecontrollers Remix)'.
Reverze beleven vanaf de bank
Geen kaartje kunnen bemachtigen voor Reverze? No worries: Reverze 2019: Edge of Existence wordt gelivestreamed en is te volgen via YouTube of Facebook.
Podcast: Coone – Global Dedication #039
Coone is terug met zijn Global Dedication podcast. Een podcast waarin hij verschillende tracks verkiest tot 'Global Hit of The Month' , 'Global Classic' , 'Global Premiere' en 'Global Listeners Choice' . En die zit vol met nieuwe tracks, zoals: D-Block & S-Te-Fan – Forthenite' (Global Hit Of The Month) en 'Sound Rush ft. Michael Jo – Breakaway' (Global Premiere).
NIEUWE MUZIEK
New track: Sub Zero Project – The Contagion
Sub Zero Project maakte op Qlimax bekend dat hun debuutalbum eraan komt. Met de release van het album op 5 april op de planning en een album reveal party in samenwerking met Q-dance in de Warehouse Elementenstraat, worden we alvast warm gemaakt voor dit pareltje met de release van de albumtrack: 'The Contagion'.
'The Contagion' is gereleased op Dirty Workz en te beluisteren via alle streamingdiensten.
New track: Jason Payne – Breaking The Rules
Eerder deze maand maakten we bekend dat Jason Payne zijn eigen label heeft opgericht: Break The Rules . Nu is ook de allereerste track op het label gereleased: 'Breaking The Rules'.
'Breaking The Rules' is gereleased op Break The Rules en te beluisteren via alle streamingdiensten.
New track: D-Block & S-te-Fan – Forthenite
We horen deze track al even in de D-Block & S-te-Fan sets voorbij komen, maar nu is hij eindelijk uit. Inclusief vette videoclip, zoals je van de mannen gewend bent. " So let's go babe, cause we're only here for the night."
'Forthenite' is gereleased op Dirty Workz en te beluisteren via alle streamingdiensten.
New track: Requiem – The Reckoning
Requiem is back on track met deze heeft nieuwe plaat! "This is not vengeance, this is the reckoning."
'The Reckoning' is gereleased op Q-dance Records en te beluisteren via alle streamingdiensten.
---
Wil je geen enkel nieuws missen? Volg dan iedere vrijdag onze Hardstyle Report Newsflash!