Het is misschien wel onze meest favoriete Pussy madness van het jaar: Pussy Lounge at the Park. Hot babes, kilo's confetti, 26 graden, waterpistolen en de leukste freestyle beats. Dit wordt opnieuw de gekste, meest tropische en heetste poolparty van het jaar.
Alsof Piet Paulusma en Moeder Natuur er weer rekening mee hadden gehouden. Ook dit jaar brandt de zon al lekker bij het naar binnenlopen van het festivalterrein. We worden begroet door vrolijke freestyle kicks en een flinke zwembadparty. Wil je liever niet in het zwembad? Ook ernaast is het een heus waterballet. #lekkernat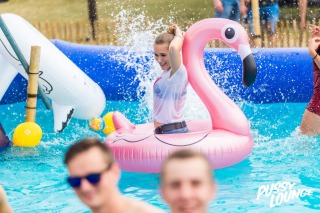 Ook de stage is één groot, felgekleurd zwembad waar de Pussy Lounge babes het publiek flink staan op te zwepen. Dit brengt 'aquagym' wel naar een compleet andere dimensie. Genius en Dr Phunk combineren subtiele freestyle met een mix tussen invloeden van reggaeton, house en top40-tracks. Het échte tempo blijft er nog even uit, maar dat is geen probleem met nog zo'n negen uur voor de boeg.
Luna trekt ons even los van de freestyle. Zijn rauwe tracks als 'Mind Controller' en 'FTP (E-Force Remix)' laten iedereen flink losgaan op raw hardstyle tracks. "Fuck the police, coming straight from the underground!" Heerlijk voor de afwisseling!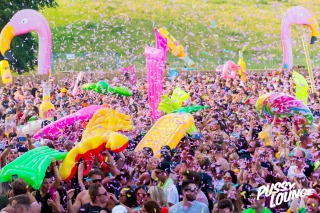 Maar ook tijdens Dee-Block & S-te-Pack gaat het dak eraf. Het is inmiddels lekker druk geworden. En soms word je bijna omver gelopen door een flamingo, unicorn of een ander met lucht gevuld beest. Maar achter de hekken staat het b2s personeel al klaar om aan die bonte verzameling opblaasdieren een extra twist te geven. "We gaan een recordaantal opblaasdingen de lucht in gooien", roept Deepack door de microfoon. 3… 2… 1… en ALLES vliegt de lucht in. Dierentuinen, fruitschalen en nog meer gekkigheid aan aan inflatables vliegt door de lucht, samen met confetti en slingers. Gaan met die banaan!
Er gaat zelfs iemand in een opblaasbaarzwembad over het publiek heen. Crowdsurfen 2.0. Maar alles komt uiteindelijk ook weer naar beneden. Er worden enthousiast opblaasdingen heen en weer gekaatst, en als je niet uitkijkt krijg je er een tegen je hoofd. Het is chaos, maar wel een hele leuke!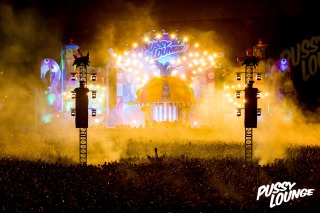 Tha Playah brengt de dag tot een einde. Met een vuurwerk en een hoge dosis bpm sluit hij Pusyy Lounge at the Park snoeihard af. Hij teased ons hier en daar met wat nieuwe tracks, en we kunnen niet wachten op zijn nieuwe album waarmee hij momenteel aan werkt. Tot aan de laatste minuut gaan we vol gas.
Pussy Lounge at the Park was precies wat we van Pussy Lounge konden verwachten. Heet, gezellig, kleurrijk en knettergek. Wil je deze madness ook de volgende keer niet missen? 9 oktober keert Pussy Lounge weer terug in Ahoy Rotterdam. Oh, en trek je 90's outfit aan, want we gaan terug de tijd in tijdens de foute 90's party!