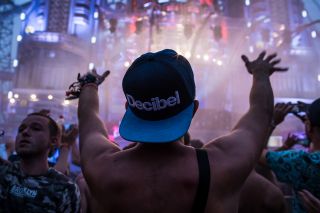 Naast een rete-lekkere line-up met goede headliners en fijne namen, zien we ook een paar héle leuke verrassingen. Zo is de classic line-up goed gevuld met een classic set van Adaro en D-Block & S-te-Fan en oldschool namen als Technoboy, Davide Sonar, Pavo, Tatanka en Sunny D. En, de grote verrassing: Titan: The Final Closure. Toch geen
final goodbye
op Defqon.1 dus.
Nice!
Ook heeft b2s weer z'n best gedaan op een paar mooie combinaties. Met fijne back-to-back-sets van Adaro vs. Rejecta en B-Frontliner trappen we het weekend af. Op zaterdag bespelen Brennan Heart en Wildstylez de mainstage met hun dromerige hardstyle en bij de Pussy Lounge stage staan de meest gekke combi's voor je klaar. Deetox vs. Sub Sonik en Clockartz & Chris One brengen je een goede dosis raw, en Mind Dimension vs. The Purge en Rebelion vs. Malice gaan daar ongetwijfeld nog een keer overheen. Zondag staan Bass Modulators en KELTEK samen op het podium, en ook dat lijkt ons een hele interessante combi.
En natuurlijk geen Decibel zonder live-acts. Deze zomer geven artiesten als Audiotricz, Requiem, Sub Zero Project, Digital Punk, Headhunterz, Neroz, Luminite en Ncrypta (als Cryptonite) en Phuture Noize geven net dat beetje extra. Zij staan namelijk als live-acts geboekt en komen ongetwijfeld met veel nieuw materiaal en een fijne show.
Wil je een keer helemaal iets anders? Check dan Wasted Mind op vrijdag en op zaterdag de twee uur durende set van Drokz en de b2b-set van N-Vitral en Dither. Maar op zondag uit je dak gaan op de uptempo beats van Vandal!sm is ook zeker een
must
als je van wat harder houdt. Of Geck-o op de Freestyle stage - ook áltijd een aanrader. Zeker op de brakke zondag. Oh, en Aftershock live natuurlijk, de nieuwste WE R Music belofte.
Naast drie stampvolle festivaldagen stopt het feest op de camping nooit. De camping is dan ook hét geheime wapen van Decibel outdoor. En die legendarische formule blijft gelukkig onveranderd. Ook dit jaar kun je weer optimaal genieten van die beroemde campingsfeer. Inclusief geheime activiteiten, verrassende pop-up party's en een overdosis aan onverwachte gezelligheid.
Make new friends,
organiseer je eigen after van de afterparty, struin over de camping en zorg vooral dat je keihard geniet.


---
Vanaf woensdag 3 april, om 20.00 uur (CET) is de reguliere ticketsale van Decibel outdoor beschikbaar. Zorg dat je klaarzit en scoor je tickets hier . Interesse in iets meer luxe en comfort? Check dan hier de Travel Packages.