Art of Dance en b2s will strike again. Snakepit is voor de tweede keer stijf uitverkocht. Zaterdag 9 december keert het hardcore (én harder) feest terug naar Eindhoven om het Klokgebouw met de grond gelijk te maken. In need for speed? Let op: deze is niet voor watjes. 
Je kent het wel. Je bent op een feestje, laat het allemaal lekker over je heen komen en weet niet precies naar welke sets je zal gaan. Omdat er meerdere area's zijn, kun je niet echt kiezen. Maar je volgt je vrienden wel gewoon. Je hebt af en toe geen idee wie er allemaal draaien, maar je hebt wel een superleuke avond gehad. Als ee achteraf allerlei filmpjes op de socials van de artiesten verschijnen, die je dan weer net niet hebt gezien, baal je als een stekker. Wat een geweld, hoe kon je dat nou missen? 
Om te voorkomen dat jij op 9 december hetzelfde gevoel ervaart, vertellen wij je welke sets je echt niet mag missen. En waarom.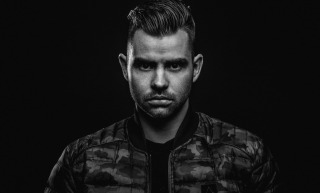 Deadly Guns Live, 01:00 – 01:30
Aan Michael Augustus a.k.a Deadly Guns het genoegen om dit jaar het anthem voor Snakepit te maken: Deadly Venoms. Ongetwijfeld wordt dit hét showmoment van de avond, waarbij b2s en Art of Dance behoorlijk wat lasers en vuurwerk uit de kast trekken. Deadly Guns doet er zelf ongetwijfeld nog een schepje bovenop en trakteert het publiek gegarandeerd op een flinke dosis snoeiwerk met zijn The Gunshow album showcase.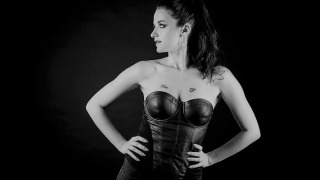 Lady Dammage, 00:00 – 01:00 
Hoezo is hardcore iets voor mannen? Lady Dammage bewijst het tegendeel. Maar ook hardcore naar uptempo tillen is voor haar geen probleem. Tijdens deze set zal ze de tent afbreken met haar kersverse nieuwe tracks. Haar debuutalbum The Coredoom is net uit en voorzien van een lekkere dosis beukwerk van de bovenste plank. Voor dit album sloeg Lady Dammage met de grootste namen uit de scene de handen ineen voor het betere snoeiwerk. Denk aan F.Noize, D-Fence, Drokz, Andy The Core en Richie. Ben jij klaar voor deze Spaanse dosis geweld?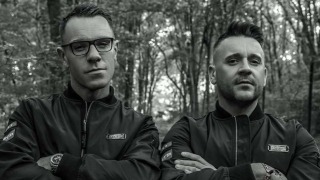 Destructive Tendencies Live, 03:30 – 04:00
Zei daar iemand uptempo? De heren uit Groot-Brittannië zijn al weken bezig met de voorbereidingen van deze liveset. Dit half uur staat helemaal in het teken van geremixte oudere tracks die flink zijn opgevoerd. En dat Destructive Tendencies  steengoede uptempo sets draaien, weten we maar al te goed. Denk maar even terug aan hun briljante Thunderdome set. Ben jij klaar voor deze screeches en vernietigende kicks?
Check hier de volledige Snakepit timetable: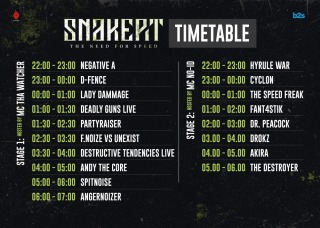 Geen ticket kunnen bemachtigen? Houd onze Instagram in de gaten gedurende het evenement. We doen live-verslag via ons verhaal. Wij kunnen niet wachten om even een tandje harder te gaan zaterdag 9 december. Zien we jou ook?