Zaterdag 31 december was het tijd om het jaar knallend uit te gaan en waar doe je dat beter dan in het mooiste stampgat van Nederland? Natuurlijk de Ziggo Dome! Tijd voor Freaqshow 2016 – The Twisted New Years Eve. Bekend van haar verbluffende shows, sfeer en bizarre dresscode. Hier komt (bijna) iedere bezoeker verkleed als freak. De hele nacht ben je omsingeld door skeletten, dracula's, zombies, freaky sexy zusters, clowns, noem het maar op.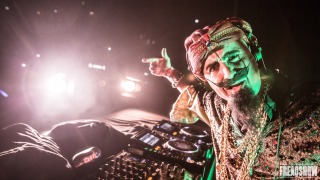 The man who knows..
Nadat wij onszelf in onze freaky outfits hadden gewurmd, was het echt tijd voor The Greatest Show on the Planet. Je kijkt je ogen uit. De Ziggo Dome voelt aan als één groot circus. De stage ziet eruit als een gigantische circustent met de doeken opengeslagen en grote witte vleugels aan de zijkant. Onderaan de stage zie je het gezicht van de waarzegger Zohar: "The man who knows". Boven hangt aan iedere zijde één grote oogbal met daarachter de handen van Zohar die over de Ziggo Dome waakt. Q-dance maakt ook deze keer weer al onze dromen waar!
De sfeer zit er al vroeg lekker in. Nadat iedereen is opgewarmd dankzij de openingsset van Rebourne, wordt de muziek steeds harder. De ene goede beukplaat na de andere komt langs. De duizenden bezoekers gaan compleet uit hun dak op de muziek van The Prophet. Hierna volgt de set van Andy SVGE (Waverider), die we voor het eerst zagen bij de Endshow van Defqon afgelopen zomer met het nummer: 'Gravity'. Een heerlijke laatste set om het jaar mee af te sluiten. Wanneer Andy SVGE het nummer: 'Zombie' inzet, hoor je iedereen luidkeels meezingen en de Ziggo Dome beeft zeker nog enkele minuten na.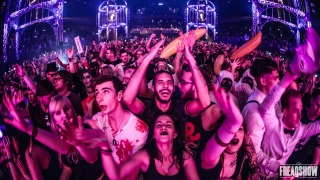 The Final Countdown
Het laatste kwartier is ingegaan van 2016 en de Q-dance Top 10 dreunt door de speakers. Deze top 10 wordt afgetrapt met het nummer: 'Dragonblood (Defqon.1 Anthem 2016)' van Bass Modulators. Het laatste kwartier waande je even terug naar alle festivals, momenten en herinneringen die je samen hebt gedeeld het afgelopen jaar. Het laatste en het beste nummer van 2016 dat wordt gedraaid is het nummer: 'Gravity' van Andy SVGE. Dit is toch wel echt even hét kippenvel moment van de avond. Iedere bezoeker schreeuwt keihard de laatste 10 seconden van 2016 mee en dan slaat de klok 12 uur. Eén grote explosie van vuurwerk, confettikanonnen, stampende ravers en happy faces die de vloer van de Ziggo Dome doen beven. Het moment dat het jaar 2017 wordt ingeluid en hoe!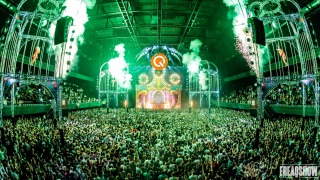 Let the Freaqs out..
Na de set van Cyber, die dit jaar het anthem: 'Freak Out' heeft gemaakt, is het tijd voor een uitstapje richting de andere zaal. Hier begint Jason Payne flink te beuken. Een set waar je amen tegen zegt met nummers als 'Genocide', 'Chainsaw', 'Menace' en 'Life's a Bitch'. De sfeer zit er ook hier goed in en de zaal is stampvol. Wat een dedication! Het publiek gaat compleet op in de muziek en geniet van elke seconde. Terug in de grote zaal is het na Deetox tijd voor Frequenzerz en Warface om deze prachtige nacht af te sluiten. Vanaf dit moment is het alleen maar keiharde hardstyle. Iedere bezoeker knalt de laatste energie eruit en gaat nog vol gas op zijn Nike Air Max. Hoe harder hoe beter!
Freaqshow 2016 – The Twisted New Years Eve oversteeg al onze verwachtingen. Dit is een feest waar iedereen dezelfde passie voor hardstyle deelt en dat is te merken ook. De sfeer, knallende sets, vuurwerk en de lasers; alles klopte. Stampend het nieuwe jaar in gaan met je vrienden en duizenden andere hardstyle liefhebbers. Beter dan dit wordt het niet! Freaqshow is dé manier om je jaar af te sluiten.
Foto's door Q-dance