Hij is de belofte van het moment: Phuture Noize. Zijn eerste album sloeg in als een bom en we kunnen geen enkele track opnoemen, die we niet vet vinden. Inmiddels heeft hij zijn eigen QAPITAL anthem op zijn naam staan en is hij bijna klaar om zijn tweede album te releasen: Black Mirror Society. Uiteraard with a big bang. 
In samenwerking met Q-dance host Phuture Noize een exclusieve album release party op 8 juni, in de Westerunie in Amsterdam. En jij kunt erbij zijn!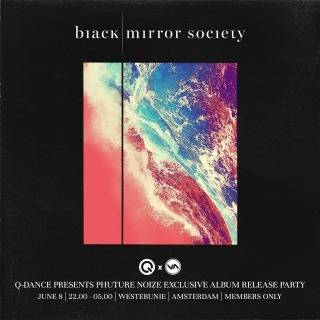 Wil jij als eerste de nieuwe tracks van Phuture Noize's nieuwe album horen? Meld je dan nu aan via de deze link: https://registration.q-dance.com. Deze exclusieve release party voor Black Mirror Society is namelijk members only. And it's gonna be legendary.
Er zijn maar een limited aantal kaarten verkrijgbaar, dus zorg dat je je op tijd registreert. Je kunt je registreren tot woensdag 2 mei 2018 23.00 (CEST). Dit wil je niet missen. 
Meer lezen over zijn nieuwe album? Check dan hier ons interview met Phuture Noize.
"Het thema van het album is de gebroken wereld van de social media. De titel beschrijft dat ook; 'black mirror' staat voor de ongelijke tweede ik op internet en 'society' staat voor de online wereld. Alle tracks van het album zijn geschreven met het gevoel wat ik daarbij heb."